About The LAB Materials Testing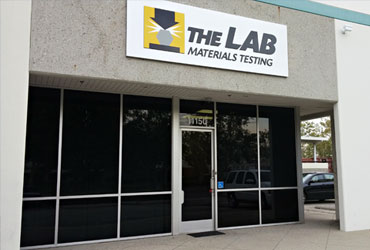 The company was birthed out of the manufacturing industry and the recognized need for a fast, accurate, and more importantly, responsive materials testing lab. The founders found that when they needed testing completed, some companies would charge for unnecessary tests, have slow turnaround times and provide poor quality customer service. As experts in the field, The LAB—Materials Testing founders created the perfect solution: A company that collaboratively partners with businesses to help them determine the tests and certifications they need while providing outstanding customer service, low lead times, and quality, accurate testing.
The LAB—Materials Testing is ISO 17025 (Certificate # 3608.01) certified and A2LA accredited. Its NDT services are provided by Level II and Level III technicians with many years of experience.
It operates from its facility in Southern California with dedicated mechanical, non-destructive, metallurgical and machining service labs. It uses only top-quality machinery operated by a highly skilled and knowledgeable staff to bring its customers outstanding service with every order.
The Process: Quick, Accurate Results
As the saying goes, "time is money." Most companies need a quick turnaround. When partnering with The Lab—Materials Testing, your order will be processed in the specified time frame. Normal testing orders have a 3 day turnaround. However, if you need a job done sooner, The LAB also provides 24 hour expedite services as well as same-day expedite services.
Each job order follows the following procedures to ensure the utmost in customer care and top-quality results:
The Customer=The Priority
Customer-Centric Approach

Top-quality results should be expected from any materials testing lab. What sets The LAB—Materials Testing apart is their customer-centric approach. They truly care for their customers by providing top-quality services and catering to the customer's needs.

Outstanding Customer Care

Providing outstanding customer care was one of the main reasons The LAB founders started the company. They felt there was a lack of communication and detailed results out there. When a customer calls in for an order, they don't just give them what they ask for, they make sure what they are asking for is what they really need.

A Customer Advocate

They are an advocate for their customers: they provide expert advice, information, counseling, and recommendations with every sale.